We played for Lorna and Kenneths wedding today. Always a lovely time in the Honan Chapel. The sound is fabulous. We sit at the back of the chapel and the sound resonates around the church. We played a s a violin and cello duo, and accompanied Caroline Fraher who is a wonderful singer and very professional. Highly recommended if you can get her. The duo works well with a singer if the space is resonant.
Bridal Entrance: Pachelbel's Canon
Candle Ceremony: Bridegroom & Bride
Pslam: Mo Ghra Thu
Alleluis: Seinn Aililiu
Candle Ceremony: Gabriels Oboe
Offertory: Schuberts Ave Maria
Communion: Here I am Lord & Nella Fantasia
Signing of Register: She moved through the fair
Recessional Arrival of the Queen of Sheba.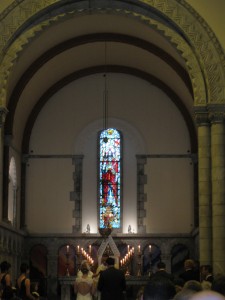 Lovely poem in their booklet
YOUR NAME
I wrote your name in the sky,
but the wind blew it away.
I wrote your name in the sand,
but the waves washed it away.
I wrote your name in my heart, and forever it will stay.
Jessica Blade